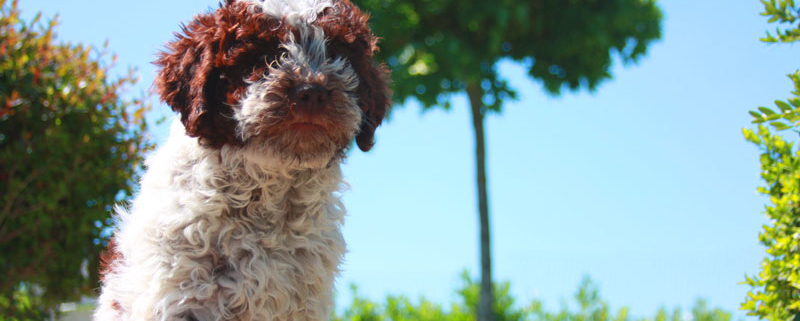 Lagotto Truffle Dog Puppy
When we receive requests for a Cucciolo di Lagotto Romagnolo truffle puppy we try to satisfy the future owner.  It is important to us that our puppy can show his skills and be appreciated. It is important for the Cucciolo and it is also important for those who have chosen us.
For us it is important to understand who our puppies are entrusted to. All the more so for a puppy who will go truffle. The risks that he will not be considered as a member of the family are greater.
Being an excellent Lagotto Romagnolo pet doesn't take anything away from his truffle making skills. Unfortunately not everyone thinks so, but I think they are wrong.
Our puppies are given to those who consider them family members.

Only then are we happy if they are also taken to look for truffles.
Having verified that the request we receive for a truffle dog is part of what has just been said, we try to give our best.
We try to find the puppy that shows the most passion.  Since he is a puppy, we start looking for truffles with a special eye.
Among the many games and experiences that we make with our puppies to start them in a positive way in their growth and socialization, there is never a truffle ball missing.
I really like to see how the puppies are placed and relate to a scent that is in their DNA for this breed. Soon you can see the differences, the vocation of each one. The will and the attention that he puts into making these simple games.
Before delivering "the truffle puppy" we are quite sure of its dowry. He is a puppy who has learned to look and rasp. He often already knows how to bring back a few balls because he has understood that truffles bring prizes and cuddles. We are always available to support the puppy's training even when he has reached his new family. Often these are simple tips to avoid regressing in training and continue straight to the most important obstacle: the truffle in natural truffle-grounds.
Lagotto Puppy Company Dog
More and more families have had the opportunity to meet some examples of Lagotto Romagnolo . In parks or at friends' houses. They have documented the character and qualities of Lagotto Romagnolo. They could not resist the charm of this fantastic breed.
Those who approach this breed for the first time, fear that they will not be able to make their four-legged companion happy. They think that the Lagotto Romagnolo can only be had by those who take it for truffles.
Can we consider the equation: Lagotto Romagnolo equals truffle dog?
In reality, even in the Lagotto Romagnolo breed we hear more and more frequently about bloodlines.
We do not want to transform an excellent Lagotto pet dog into a mediocre Lagotto truffle dog.
Every Lagotto Romagnolo can do without truffles.
There are more lively dogs and others quieter. Both require the daily attention of their family, to have fun with them, and nothing more.
I have seen for myself that there are some puppies and big puppies that for temperament and character are not interested in going through the woods to look for truffles. They prefer the sofa!
During the 70 days of living together, we can understand the aptitudes of each individual puppy. We always want to choose the puppy together.
The availability of space and time of the family, the presence of children and also the dynamism of the future owners are elements that help us to identify the puppy to create the best man-dog combination.
Often the first thing that is asked is the colour of our puppies. We know that only after a few days of living together, the new families appreciate the sweetness, character and joyfulness of our puppies. That's why they fall in love with them.
https://www.allevamentovalledeimedici.it/wp-content/uploads/2017/06/Scegliere-il-Lagotto-Romagnolo-cucciolo.jpg
600
800
Davide
https://www.allevamentovalledeimedici.it/wp-content/uploads/2020/05/logo-lagotto-valle-dei-medici-1-300x138.png
Davide
2019-12-08 19:22:52
2021-05-16 17:52:07
Choosing the Lagotto Romagnolo from Truffle or Pet?