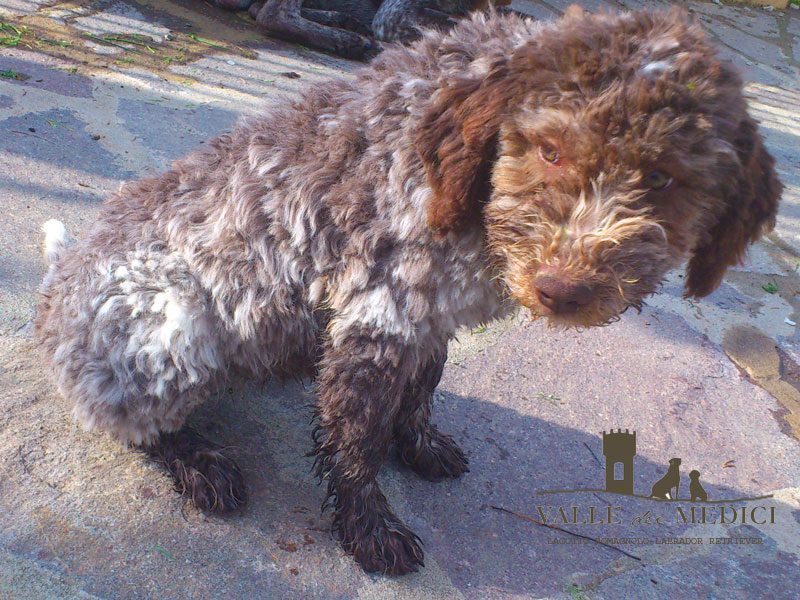 The luck of meeting Saetta ❤️
I approached the Lagotto Romagnolo for its fame as a truffle hunter dog. A bit like our "Customers" do before taking the step, I tried to find out as much as possible about the breed. To understand its needs and how to manage the fabulous curly hair.
Before making up my mind, I had the chance to meet a lot of Romagna's lakes, both male and female, and I talked to their owners.
From the beginning it was clear that this dog was special.
Those who lived the dog every day, at home, on the couch, those who made every move with his Lagotto next to them, even in the woods, were very satisfied. Even in times of scarce truffle he would come home happy for the turn and often even with some unexpectedly delicious hypogeum mushroom, the white truffle.
The others, alas, always had something wrong with them.
I decided to buy what is still my Super Lagottina. Beloved Saetta ❤️❤️
The first of the Class
She was the first, every day with the same enthusiasm and the first in everything!
My little soldier: the first to make an exhibition and, moreover, winning with CAC.
The first to give me puppies all mine. Some beautiful Lagotto Speciali.
The first to teach me that no matter how hard I tried, I can't find truffles without them. So I kept quiet and left the initiative to her.
And just behind master truffle hunters with "phenomenal dogs", the little soldier found what expert and commanded dogs left, perhaps voluntarily, to us.
For years with Saetta we have understood each other on the fly.
She checks my clothes to see if something fun is planned. She pays attention to my tone of voice to see if it's a good day. My movements to know when it's time for a cuddle, a walk or a bit of gardening.
If today I carry on this passion of breeding and have chosen to spend a lot of my time with my dogs, I certainly owe it mainly to my little Saetta.
The luck of having them all
Shortly afterwards Thor arrived. My mother-in-law's family dog had recently died. Balto represented so much for our whole family. We needed a dog that could be a pet dog. After some hesitation Sara convinced herself to take a Lagotto.
They are inseparable and Thor is special to Sara. She tells us at least three times a week! And we are just pleased!
Luce with her infinite desire for cuddles, Runa with her sweetness, Moka with her requests for confirmations and our Chicca born here. And recently also Pedro the handsome boy who learns everything and who will be our future breeding male. Perla and Giada the two little twins who rely on each other and who represent so much for the piece of Lagotto history they bring with their presence. They are all equally special. The merit is theirs!
Each has its own character, its own characteristics, many facets that, living together, can be perceived and distinguished. All different, but united by being Lagotti Romagnoli, and soon you are conquered!
❤️ I love Lagotto Romagnolo! ❤️
https://www.allevamentovalledeimedici.it/wp-content/uploads/2018/06/saetta-lagotto.jpg
600
800
Davide
https://www.allevamentovalledeimedici.it/wp-content/uploads/2020/05/logo-lagotto-valle-dei-medici-1-300x138.png
Davide
2020-05-22 17:00:52
2021-05-16 17:51:15
My passion for the Lagotto Romagnolo - Love Italian water dog