Lagotto Romagnolo Stud mating by artificial insemination from frozen semen
The use of frozen semen makes it possible to use stallions that are far away from the female. The Lagotto Romagnolo is an Italian breed that is becoming very popular abroad.
More and more breeding farms are being set up overseas. With the use of artificial insemination with frozen semen, even private individuals who want to make quality matings can benefit from stallions directly from the breed's land of origin.
Frozen seed can be stored for up to 5-7 days in the travel bin.

Once it has arrived, it can be stored for a very long time, i.e. until the female's heat.
The Lagotto Romagnolo breed was recovered at the beginning of the 1970s, unfortunately the starting dogs population was not so large. Selection has obviously made great progress, but the breed is still very young.
The use of different bloodlines is a necessity, especially where the Lagotto population exported from its land of origin, Italy, is not so numerous and diversified.
Following a recent request from the United States for frozen semen, we had the opportunity to speak with a veterinarian experienced in the practice of exporting frozen semen.
We were also reassured that the Lagotto Romagnolo breed is responding very positively to the use of frozen semen breeding techniques.
With the support of this veterinary clinic, we carried out semen collection, tested semen quality after collection and after thawing. Once these two tests were passed, the frozen semen was sent by special transport and reached the destination veterinary hospital in just over two days. This hospital will store the semen of our Lagotto stallion until the female is ready for insemination.
Seed quality results Excellent.
The shipping costs are not excessive and all export practices are carried out by the Veterinary Clinic here in Italy.
For breeding choice we do not send our puppies, in spite of the many requests we have always privileged the foreign families that can come to Italy, here with us to know us together with their future Lagotto Romagnolo.
Sending frozen semen of one of our Stallions, Valle dei Medici Heroes aka YAGO, remains an excellent option to have our puppies, at least for the father, in places otherwise unreachable.
Pedigree: LO21152256
Date of birth: 18.06.2021
coat: Marrone Focato
Dysplasies: HD B ED 0
Genetics Test: JE Free, Furnishing Free, LSD Free, Progressive retinal atrophy Free, NAD Free
Full dentition with scissor closure
Biological Sample Deposit

Health documents and certificates are attached below.
Pedigree: LO19141512
Date of Birth: 31.05.2019
Coat: Brown
Dysplasia controls: HDA ED0
Patella: OK
Genetics test: JE Free, Furnishing Free, LSD Free
complete dentition with scissor
Biological Sample Depot
Yago produces only brown puppies. Her puppies, we have seen many by now, with our females and of course from other females as well, are brown and generally with excellent temperament.
For completeness and transparency, your documents and health certificates are under attachments.
Yago is a wonderful, intelligent Lagotto with superlative ancestry in beauty and health. It is a companion dog accustomed to living at home in a family with children.
The cost of mating with frozen seed is obviously determined by the cost of freezing and shipping.
The cost of special shipping with a subscription bin for storing the seed is not high, if handled at the right notice.
The shipment reaches its destination in 2-3 days. Obviously we have to consider an additional week from the request for the collection and evaluation of the semen.
From the time of the request, we can get the semen to the vet in 10-15 days.
The shipping cost also depends on the location of the destination.
Indicatively, the cost of collecting, freezing, testing the quality of the seed and shipping it is comparable to the cost of a natural mating here in Italy, the price of which must obviously be added to obtain the total cost for those who decide to use this service.
Expenditure = fixed costs + cost of mating
However, I fear that for many countries the cost of an on-site mating is even higher.
Request to send frozen seed for mating
Contact us for more information.
By email or what app +393939701279
News and Curiosity
Information Request
Contact us for more information about the next litters and bookings. We 'll answer you as soon as possible.
Breeder ENCI FCI  Valle dei Medici

Breeding Plan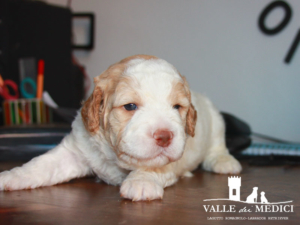 Latest News
Sterilisation of a lagotto dog

16 May 2021 - 17:42

Why sterilise your dog Neutering a dog mainly protects him from tumours. For the female these are tumours of the uterus and udder, for the male tumours of the testicles and prostate. Mother Nature takes her course and would like females with puppies twice a year. This, however, is very bad. It would soon debilitate […]