Valle dei Medici Heroes – Yago is born of a highly desired coupling. A litter planned to have a Brown male to use in our breeding, with an excellent pedigree.
Excellent for genealogy and health.
Mama Giada has all the requisites for that. Father, Adam Ocrina, we picked him up in Slovenia. I met his breeders, two very kind people who breed with such passion and love for the Lagotto Romagnolo breed.
I also got to know Adam's mother personally, who is now old but in splendid form. Adam live was even more beautiful than his photos and his magnificent pedigree.
Long days full of expectations. I'd say it was worth it!!!!
Today, Yago lives with the family of Hector, our grandson. He is our pet dog and occasionally our breeder.
An exuberant dog, without shyness, but very intelligent and polite. He knows his business and every time he sees me he fills me with attention and parties, maybe he associates me with his fuitine!
His expressive face, combined with his chocolate coat, make Yago a dog that does not go unnoticed.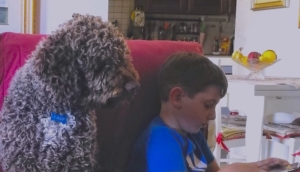 With Ettore they are a very amiable couple and Yago respects and understands Ettore's tender age.
In the photo Yago is very interested in his video game.
His pedigree is available from the following link:
Pedigree: LO19141512
Date of Birth: 31.05.2019
Coat: Marrone
Dysplasia controls: HDA ED0
Patella: OK
Genetics test: JE Free, Furnishing Free, LSD Free
complete dentition with scissor
Biological Sample Depot
For completeness and transparency, your documents and health certificates are under attachments.
ITA CH ROMEO HD A x Emma della Taparina HD B
DOCUMENTS AND CERTIFICATES OF HEALTH CHARACTER AND MORPHOLOGY