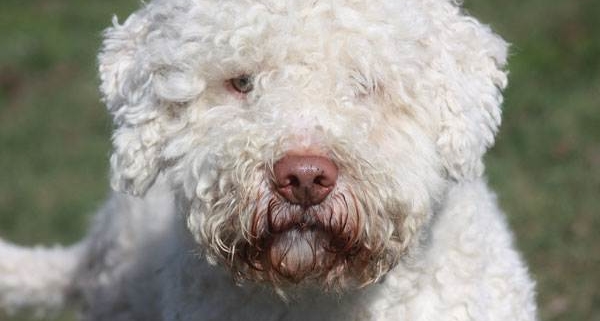 Coupling Lagotto Romagnolo: The Stud
For a small breeding as we are, with a small number of females and Stallions, it is sometimes essential to turn to Stallions from other Lagotto Romagnolo farms.
Serious breedings even if they have many dogs sometimes turn externally to look for something that they lack. For those who breed, it is necessary to ask externally for a stallion (Stud) are additional costs.
It is a matter of priority! If quality comes before quantity.
What we do is a selection process similar to what our customers do when they decide to buy a puppy. We turn to breeders that we trust and esteem.
We know that the quality we are looking for is the quality we will find in our puppies.
Being a Male of Lagotto Romagnolo is not enough to be a stallion, Stud.
The ultimate goal is to give birth to healthy and beautiful puppies. Balanced and happy dogs, good specimens of their breed. In other words, the improvement of the breed through the selection of breeders.
Genetic improvement is a process of modifying the genetic heritage of the breed. It is implemented through the empirical and visible selection of the best subjects (phenotypes). Through the knowledge and study of genomes (genotypes).
The male in reproduction plays a fundamental role. Stallions should provide the offspring with those qualities that the female may lack.
Our Thor Odinson is a selected breeder and has all the credentials to be considered a stallion. PEDRO is a Lagotto of the highest genealogy with the highest health requirements and with offspring that testifies to its quality. Yago we have kept him with us for the important genealogy, his offspring are filling us with satisfaction. Yago is still avalaible for artificial insemination from frozen semen.
They are available for mating with females checked with official X-rays for dysplasia and genetic tests for breed diseases.
Our Pedro as well as Yago are perfect breeders for morphology and genealogy. Free from all genetic diseases of the breed and clean for dysplasia resulting HD A ED0 at official control is available for mating. The results of the DNA controls allow to mate with all females guaranteeing puppies not affected by LSD, Juvenile Epilepsy and Furnishing.
For those who choose one of our Male breeders we will be available to provide our support from pregnancy to puppy foster care. By publishing on our website the litter to find excellent families also for our Male puppies.
When a Male from Lagotto Romagnolo is a valid Breeder.
Character
The character of the dog is part of phenotypical evaluations. The Stallone must be a balanced dog. It is very important!
We breed with care and attention to the socialization of the puppies, but it is essential that the genetic component of the puppies regarding the character aspects is good.
Morphology
Every owner sees his dog as the most beautiful and good in the world. Since they are animals who know how to love us and also know how to be loved, it is very difficult for an owner to be objective.
Relying on experienced judges participating in an exhibition helps to understand the merits and defects of the Stallone.
Health and genetics
For the Lagotto Romagnolo there are recognized pathologies in the breed. The Mares and also the Stallone must have a clear picture of health.
Dysplasia is evaluated empirically (phenotype). Official X-rays certified on the pedigree by the reading centers. In Italy FSA and CELEMASCHE
The genetic diseases of Lagotto Romagnolo are Juvenile Epilepsy (JE) Lysosomal Storage Disease (LSD) and Furnishing.
Attitude to Work
The Lagotto Romagnolo is a working dog. The only recognized breed for truffle hunting. The Stallone will also have this quality.
If the ambition is to have puppies that will be excellent companions in life, in our opinion, the ability of the stallion to search for truffles can be considered "sometimes" an accessory dowry.
The Lagotto Romagnolo breed club organizes events. Truffle hunting trials, in which the ability of the dogs is evaluated by expert judges.
Offspring and genealogy
Evaluation of offspring and knowledge of ancestors are important indicators of a dog's validity as a breeder. If the offspring and ancestors of a dog have shown excellent character and morphological or attitudinal qualities at work, we are faced with an excellent Stallone.
https://www.allevamentovalledeimedici.it/wp-content/uploads/2017/05/thor.jpg
500
600
Davide
https://www.allevamentovalledeimedici.it/wp-content/uploads/2020/05/logo-lagotto-valle-dei-medici-1-300x138.png
Davide
2017-08-02 17:12:22
2021-06-13 23:51:38
Stud Lagotto Romagnolo