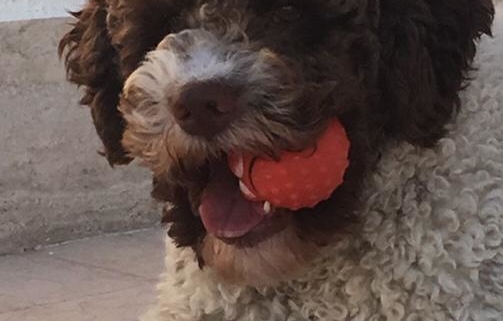 Medium-sized dog Lagotto Romagnolo.
Have you recently decided to add a puppy to your family? Have you always wanted a dog and it finally seems the right time has come? Have you recently discovered Lagotto Romagnolo and have you seen different sizes and sizes and this makes you wonder if it is the right dog for your flat?
Have you never had a dog or has it been a long time since you lived happily with your dog as a child? Or would you simply like to add a Lagotto as a life companion?
A medium-sized dog is ideal for living in a flat, in houses with a small garden. A medium sized dog has all the characteristics to adapt to many situations.
In the video some of our Lagotto; Chicca Ambra and Atena who cheer us up with their company on a Sunday picnic. It is always a joy to see them running outside.
The Lagotto Romagnolo is a medium-sized dog.
The Standard of Lagotto Romagnolo says it clearly.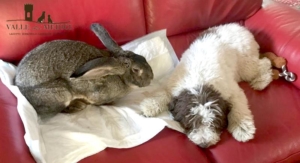 The weight and height measurements define it precisely. And yet the tonnage of the Lagotto dog is one of the questions that we are asked the most. Perhaps it is due to a certain margin that at least in height is tolerated in the standard. Even the relatively young breed still leaves some variance on the morphological and aesthetic characteristics of the various subjects.
It is worth remembering that the herd book of the breed is still open. This means that some dogs presumed to be Lagotto Romagnolo can be recognised as dogs belonging to the breed. There is obviously a path of recognition to follow, but the aim is clear, the desire not to lose the genetic heritage of this breed that has been recovered with so much effort and finally recognized by the International Dog Federation FCI.
Returning to the typical measures of the Lagotto Romagnolo, even if with the distinction on the slight variance of the morphological characteristics mentioned above, whether it is a female of 11 kg or a 14 kg female or a 13 kg male rather than a 16 kg male, the Lagotto Romagnolo is a medium-sized dog.
In the picture we see one of our 5 months old puppies living in a house with a garden, she is a pet dog, for other things with a giant rabbit. Exactly the almost total disappearance of the hunting instinct of the Lagotto.
The breeds of dogs considered of medium size range from 8 kg to 25 kg in weight. These breeds are generally very appreciated for the possibility of living in a flat, being able to adapt to the life of families with children.
At the same time they have characteristics of strength and resistance that are not delicate but suitable, and let me say satisfied, to sustain efforts.
We who are lovers of the breed know that in addition to everything that a medium-sized dog offers, and this is no small thing, the Lagotto Romagnolo puts its own spin on it. These are topics of our other articles but his character, his docile temperament and his curly hair make him an Italian excellence.
The Lagotto Romagnolo is a breed dog of Italian origin, also know as Italian Water Dog, of medium size and with characteristics increasingly appreciated in the world.
https://www.allevamentovalledeimedici.it/wp-content/uploads/2020/02/size-dog-lagotto-romagnolo.jpg
684
503
Davide
https://www.allevamentovalledeimedici.it/wp-content/uploads/2020/05/logo-lagotto-valle-dei-medici-1-300x138.png
Davide
2020-02-19 21:03:49
2021-05-16 17:51:40
Lagotto Romagnolo is a medium-sized dog